Institution Numbers of Canadian Banks
2020-05-31
---
In Canada, each bank corresponds to an Institution Numbers (financial institution number), generally it is a three-digit number.
Each branch also corresponds to a Transit Number (transaction number), which is generally a five-digit number.
When we fill in the bank account information, we usually need to fill in the bank 's Institution Number and Transit Number, and then add the bank account number.
If you have a bank check (cheque), you can find the above three numbers on the bank check (cheque). If you do not have a check (cheque), you will need to search or contact the bank to obtain the information.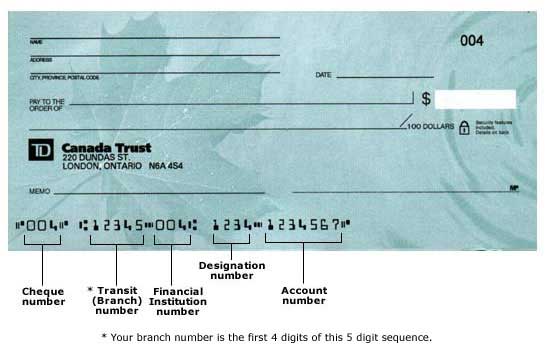 The following are the Institution Numbers of common Canadian banks. Because there are many bank branches, the Transit Numbers of all branches are not listed here.
Institution Numbers of Canadian Banks (or Financial Institution Numbers - FI numbers)
| Institution Number | Bank |
| --- | --- |
| 001 | Bank of Montreal (BMO) |
| 002 | The Bank of Nova Scotia (Scotiabank) |
| 003 | Royal Bank of Canada (RBC) |
| 004 | Toronto-Dominion Canada Trust (TD) |
| 006 | Banque Nationale du Canada (National Bank of Canada) |
| 010 | Canadian Imperial Bank of Commerce (CIBC) |
| 016 | Hong Kong Bank of Canada (HSBC) |
| 039 | Laurentian Bank of Canada |
| 030 | Canadian Western Bank |
| 117 | Government of Canada (Not listed as a member of the Canadian Payments Association) |
| 127 | Canada Post (money orders) |
| 177 | Bank of Canada |
| 219 | ATB Financial |
| 240 | The Royal Bank of Scotland NV Canada |
| 241 | Bank of America Canada |
| 242 | The Bank of New York Mellon |
| 245 | Bank of Tokyo-Mitsubishi UFJ (Canada) |
| 250 | BNP Paribas (Canada) |
| 260 | Citibank Canada |
| 265 | Deutsche Bank AG |
| 269 | Mega International Commercial Bank Canada |
| 270 | JPMorgan Chase Bank, N.A. (Toronto Branch) |
| 275 | Korea Exchange Bank of Canada |
| 277 | Mizuho Corporate Bank Ltd. Canada BR |
| 290 | UBS Bank (Canada) |
| 294 | State Bank of India (Canada) |
| 301 | Sumitomo Mitsui Banking Corp of CDA |
| 303 | Amex Bank of Canada |
| 307 | Industrial and Commercial Bank of China (Canada) |
| 308 | Bank of China (Canada) |
| 309 | Citizens Bank of Canada (Canada) |
| 310 | First Nations Bank of Canada |
| 311 | BofA Canada Bank |
| 314 | JP Morgan Bank Canada |
| 315 | CTC Bank of Canada |
| 321 | Habib Canadian Bank |
| 323 | Capital One Bank (Canada) |
| 326 | President's Choice Financial (no longer assigned, now shares 010 code with CIBC) |
| 327 | State Street |
| 328 | Citibank, NA |
| 330 | Comerica Bank |
| 332 | First Commercial Bank |
| 334 | Pacific & Western Bank of Canada |
| 335 | United Overseas Bank Limited |
| 338 | Canadian Tire Bank |
| 340 | ICICI Bank Canada |
| 342 | Bank West |
| 343 | Hollis Canadian Bank |
| 346 | Societe Generale (Canada) |
| 347 | Bridgewater Bank |
| 352 | Directcash Bank |
| 354 | Jameson Bank |
| 355 | SHINHAN Bank Canada |
| 509 | The Canada Trust Company (prior to merger of TD & Canada Trust) |
| 540 | Manulife Bank |
| 608 | CS Alterna Bank |
| 614 | Tangerine Bank (formerly ING Direct Canada) |
| 809 | Credit Union Central of British Columbia |
| 809 | Coast Capital Savings |
| 809 | Enderby and District Credit Union |
| 809 | Surrey Metro Savings |
| 809 | VanCity Saving |
| 815 | La Confédération des Caisses Populaires et D'Économie Desjardins du Québec |
| 819 | Caisses populaires Desjardins du Manitoba |
| 828 | Credit Union Central of Ontario Limited (Metro Credit Union) |
| 829 | La Fédération des Caisses Populaires de l'Ontario Inc. |
| 837 | Meridian Credit Union (formerly Hepco) |
| 839 | Credit Union Heritage (Nova Scotia) |
| 865 | La Fédération des Caisses Populaires Acadiennes Limitée |
| 879 | Credit Union Central of Manitoba |
| 889 | Credit Union Central of Saskatchewan (Teacher's Credit Unions) |
| 899 | Credit Union Central Alberta |